Himyarite: Chaldean-Sabean-Radhanite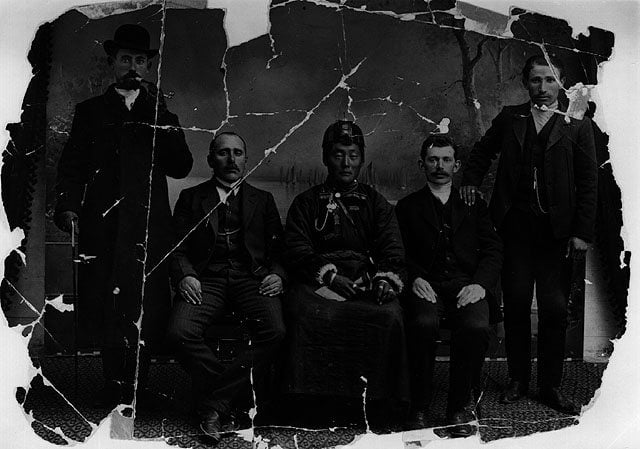 Himyar: First Ancestor Of The Tribe Of Bani Saba ie  Sabeans. Chaldeans: People of Babylon; Radhanites: Persian origin, meaning way or path; knowing the path; Amalekites: People who Wring, Lick Blood. Silk Road (China's "One Belt One Road") merchants; Jewish merchants enjoyed a significant privileged status which allowed them to move freely between the Muslim and Christian worlds. ie Fake Jews. Language "Yiddish" They held a virtual monopoly on the transit of slaves About 10% of England's population, entered in the  Domesday Book  (1086) Right Romney? became slaves. The slave trade monopoly of the Radhanite Jews grew so large that it eclipsed their spice and luxury goods trade. Ukraine comes from the old Slavic term for "borderland";  Kiev is the "Land of the Rus" and remained one of the most important trade hubs; it still is; right Zelensky? Right Putin? They exported rare silk, sable and mongoose furs, all sorts of leather and pricey swords exotic fruits, furs, corals, spices, healing ointments, and musk perfume, extracted from a deer's glands.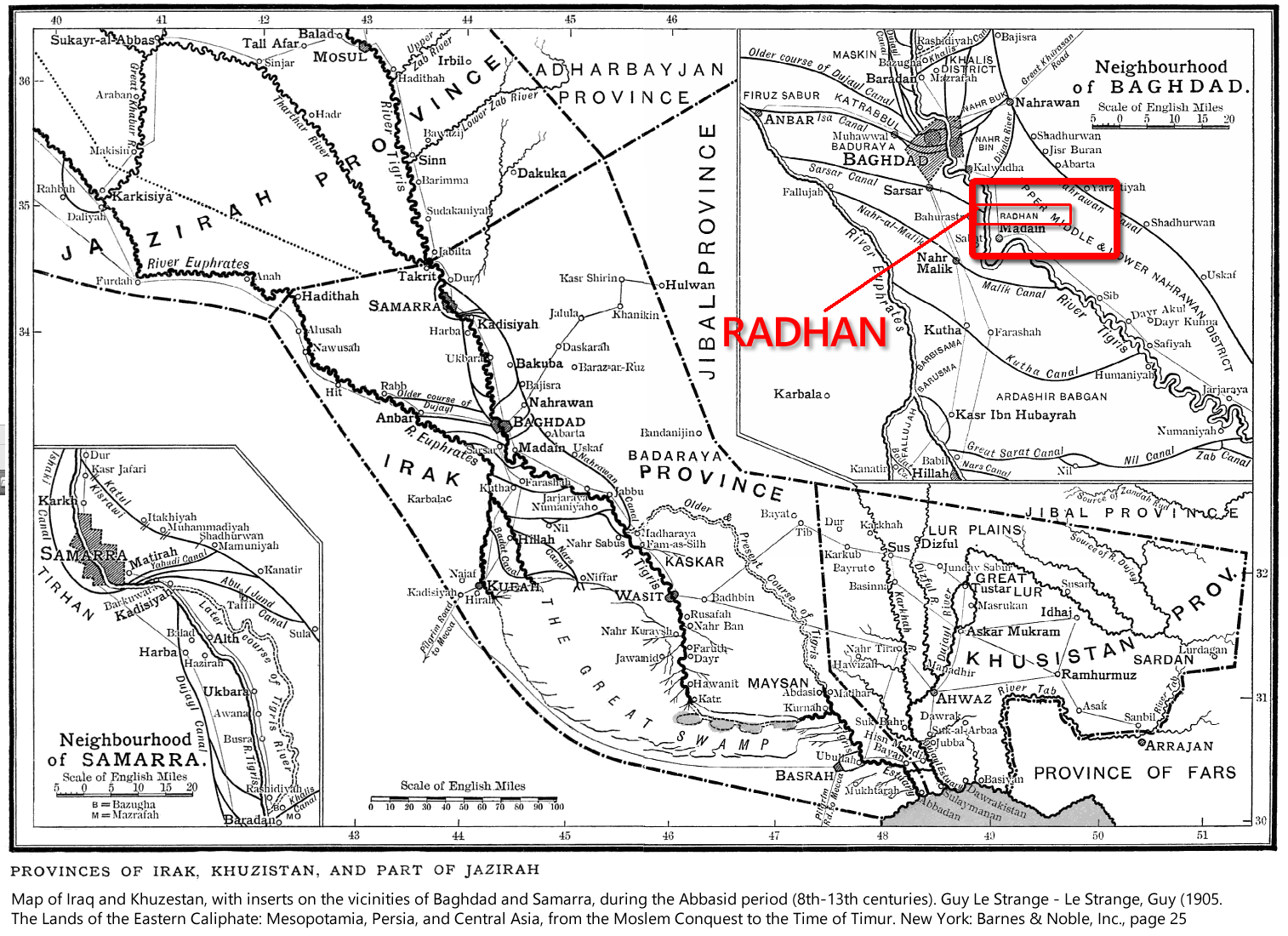 Synagogue of Satan: Radhanites: Descendants of Japheth-Gomer-Askenazi Gen 10:2) are not Semitic, nor do they worship the God of Shem; they became Radhanites. Radhanites (Ar. al-Rādhāniyya) Rādhān (or al-Rādhān, Arabic: راذان) was a region in south central Mesopotamia (Iraq) in the early Middle Ages. It was an administrative district under the ʿAbbāsids and also a diocese of the Church of the East; Orthodox "Having the correct opinion". Merchants believed to have originated in the ninth century in the region of Rādhān. Sawad "Black", a fertile territory southeast of Baghdad on the eastern bank of the Tigris in southern Iraq.  Assyrian form as ra-da-a-nu.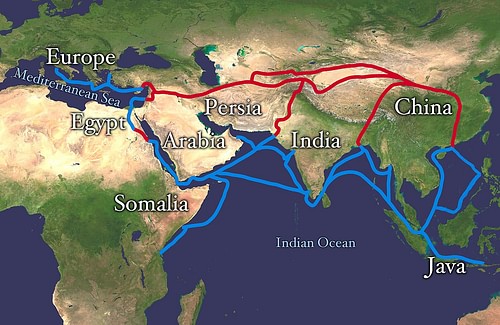 Sogdians were an Iranian people whose homeland, Sogdiana, was located at the center of several of those routes, in present-day Uzbekistan, Turkmenistan, Tajikistan, Kazakhstan, and Kyrgyzstan. Sogdiana was also a province of the Achaemenid Empire, and listed on the Behistun Inscription of Darius the Great. They played an important part as middlemen in the trade route of the Silk Road While originally following the faiths of Zoroastrianism, Manichaeism, Buddhism and Nestorian Christianity. First recorded in the 5th century BCE as a province of the Achaemenid Persian Empire. Old Persian inscriptions, Sugda and Suguda;  Scythian name is *Skuda (archer) "Scythian"; Assyrian Aškuz. Canaanite, Chaldean (Ur of the Chaldees), Sabean (Saba=Sunrise; Strong #2039 Haran: "mountaineer," a brother of Abram; Togarmah ie Turkey; the Turkic Khaganate ("Khagan" or "Khan" most literally translates to "great/supreme ruler" in the Mongol language, and by extension "sovereign", "monarch", "high king", or "emperor") took over in Sogdia; eg Elena Khagan (Obamas mentor; Both Gay ) and Stalin's Gulag Chief Lazar Kaganovich, Shiite Muslims worship the "Old man of the mountain"), Babylonian, (Iraq; Radhan), Medeans (Iran; Sogdians; Uzbekistan and Tajikistan, as well as in emigrant communities that flourished along the various trading routes "Silk Road", "Magi") 2 Ki 17:30, the replacement of the 10 Tribes of Israel, changing their name to Radhanites, from Babylon (Iraq). They claim to be of Abaham's brother Nahor "Chesed" (Gen 22:22)=Chasidic, (mercy; loving kindness) thus they assumed the name "Rabbi" (Great One), a Chaldean and Sabean title "Rba"; Tikkun Olam (repairing the world) is the goal of Rabbis; Repair the World without the Holy Ghost.  Their trade routes stretched from China to the Iberian Peninsula called "One Belt One Road".
"And repayeth them that hate him to their face, to destroy them: he will not be slack to him that hateth him, he will repay him to his face." Deut 7:10 Khazarians "Serpent People"; Sogdian-Khazarians had large aquiline or hooked noses that set them apart in China. Bottom line is Our enemy is is our own house!
"Thou shalt not lend upon usury to thy brother; usury of money, usury of victuals, usury of any thing that is lent upon usury: unto a stranger thou mayest lend upon usury; but unto thy brother thou shalt not lend upon usury" Deut 23:19-20. America is in Debt $32T + $187T
Noahide Law (Christianity and fake Jewish) and Shariah Law (Islam) has the Crowned Serpent (dragon, Devil, Satan; Rev 12:9); they both require Blasphemy of the Holy Ghost, the Unforgivable Sin. There are 2  balances, it will require giving your up your Money, likely a Vaccination and Decapitation "And when he had opened the fifth seal, I saw under the altar the souls of them that were slain for the word of God, and for the testimony which they held…And white robes were given unto every one of them; and it was said unto them, that they should rest yet for a little season, until their fellowservants also and their brethren, that should be killed as they were, should be fulfilled." Rev 6:9-10
House of Sforza and Abys (Fauci=Sickle; mother's maiden name is Abyss) Coronavirus means "Crowned Serpent Venom" Venom means Toxin Strongs #5115 Toxon. The Crowned White Horse (Rev 6:6) conquers with a Bow "Toxon" This symbol is used by the House of Sforza who control worldwide Media. Medean "Magi" were Sorcerers; Pharmakeia means "Drug induced Sorcery"; MAGA means "Sorcerer". Church of Satan founder Anton LaVey (Howard Levey) said "TV is Satan's Family Altar"
Scutum Fidel "Shield of Faith" has all paths leading to and from Zeus aka Horus, Jupiter, Adonis, Tammuz, Mithras; all path lead to Noahide Law (Christianity and fake Jewish) and Shariah Law (Islam)
Their Amorite (Canaanite; Akkadian by the name of Amurru, and in Egypt, Amar, all of which mean westerners) Hammurabi, created one of the first legal codes in the world, The Code of Naram Sin (2254–2218 bc) Code of Lipit Ishtar (1934–24 bc) and The Code of Hammurabi (1755–1750 bc); Amor "Love", 1 Cor 13 "Charity" (Love of God) is changed to "Love" is new versions of the bible. In ancient Sabaic, "Dhu" is a title roughly equivalent to lord; Dhu Shara – the Lord of Seir is the high god of the mountains. The Seir/Shara range defines Edom in Genesis; depicts a goddess (dhat is the feminine equivalent of dhu, or the equivalent of "lady" to its "lord")
"I knew a man in Christ above fourteen years ago…such a one caught up to the third heaven." 2 Cor 12:2  The First Heaven is the one God created when He created "the heaven and the earth." The Second Heaven is the firmament that God put "in the midst of the waters" (the deep), with water above and below it.  It is the celestial heaven in which are the planets, galaxies, and stars. The Bible suggests this is a dwelling place of demons (Eph 6:12) and a place of great spiritual warfare (Dan 10:12-14). Third Heaven is the eternal dwelling place of God and His heavenly hosts. Ur of Chaldeans built the Tower of Babel, and conducted initiation rituals "Sacred Marriage".and "Divine Union"; today URI (United Religion Initiative) aims to unite Zionism and Islam. Sabean "rba" a person meaning "My Great One" seen in Rabbi. Demons and Spiritual Warfare occur in Second Heaven; Arabic root ṣ–b–ʾ ('to turn to'), meaning 'converts'. Hebrew ṣābā', "[heavenly] host", implying star worshippers. Another widely cited hypothesis is that it is derived from an Aramaic root meaning 'to dip' or 'to baptize'; hence Baptism by Water as a replacement for Fire and the Holy Ghost; Sun=Molech, Shamash; Moon=Sin, Allah, Rabbit (Adrammelech, Anammelech); https://imgur.com/9kskAUt, Constellations, Eclipses etc "In the beginning God created the heaven and the earth" Rev 1:1 In new bible versions heavens is used; from 1008ad https://theresnothingnew.com/articles/masoretes/ GOD is change to Yahweh, YHWH, G-D
Zionism versus Islam: https://theresnothingnew.com/articles/wwiii/ WWIII. Zionism V Sharia Laws; Both sides have the same source, both sides controlled by Holy Ghost; acceptance of Blasphemy of the Holy Ghost 1 John 5:7. A second choice just don't play; the Holy Ghost will be intact, even without your head.
"a pair of balances in his hand"
Shariah Law (Iran) V Noahide Law (Israel). The first pair of balances leads to Death and Hell by eliminating the Holy Ghost; the second set of balances is Heaven. Death represents the physical body; Hell your residence. Jesus essentially blot out your Name 1 Cor 15:52; 2 Thess 4:17; the bow and crown effectively replace Jesus with Satan (G-D, YHWH, Yahweh, El); Peace is worldwide; the strong delusion, worldwide; the Wicked (Satan) revealed; and the Six Pointed Star (666; Qos, YHWH, Sukkoth, Chemosh, Chuin, Sikkuth, Milcom, Molech, El, Saturn) universal. The second set of balances has 1 destination,  represents decapitation, death from the world, and Heaven for eternity.
Iraq; Green Man/Green Zone; Grand Imam Muqtada al-Sadr, a Lebanese/Phoenician; Shariah Laws. Green Man/Green Revolution; Imam Ruhollah Khomeini, Shariah Law versus Noahide Law is WWIII, a plan published Aug 15, 1871 "Feast Day of Lucifer"; a Jesuit written plan. Iraq (Shariah) and now Yemen (PM Abdulaziz bin Habtoos; Shariah; Himyarites) passed a law where Islam contact with Israel is punishment by death of life imprisonment. Israel Pride Movement contradicted by Muslim anti-LGBTQ laws, both sides controlled by Himyarites, with one goal, Blasphemy of the Holy Ghost (JESUS).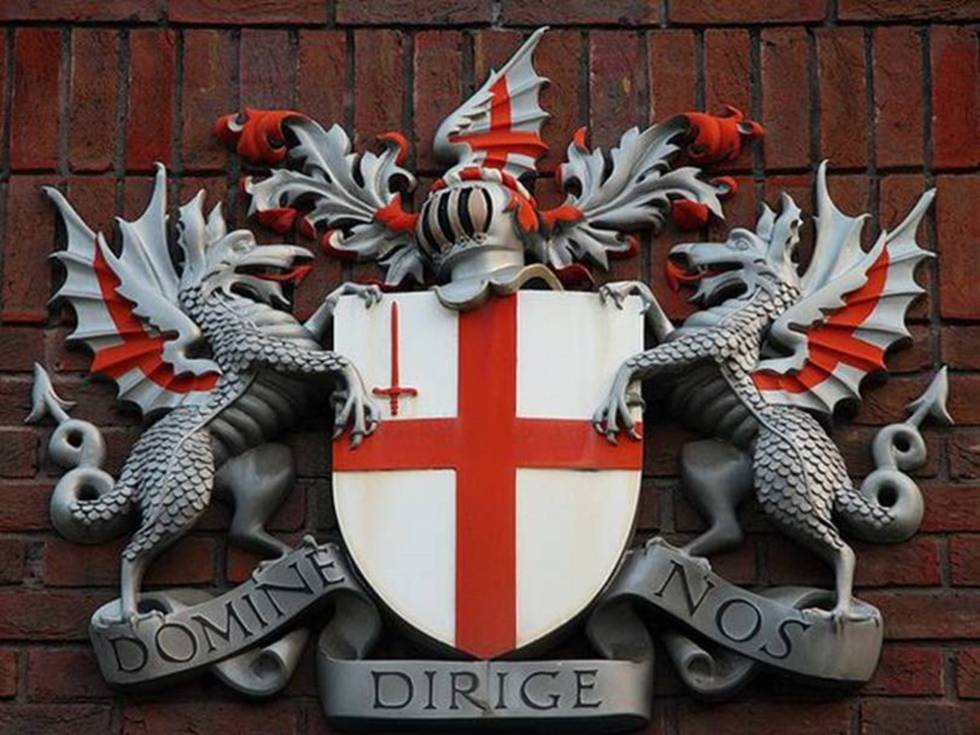 Between the 3rd and 6th centuries A.D., the Babylonian fake Jewish Radhanites created an alternative to the Torah and named it the Babylonian Talmud. In the 10th century, the Babylonian Talmudic merchant-banker "Jews" also created a secret trading language Yiddish. Then, in the 11th century, these hooked-nose Babylonian Radhanite merchant-banker pagans rebranded themselves as "Ashkenazi" Jews. One of William the Conqueror's first acts after his coronation on Dec. 25, 1066 was to given a charter to The City of London in 1067. Radknights took over The City of London after 1067. They also moved Solomon's gold to London that is today called the London Bullion Market. That gold has since been supplemented by Nazi and Yamasheta gold. The City of London Crest:" DOMINE DIRIGE NOS "Lord, direct (guide) us."Who is their lord? Mammon.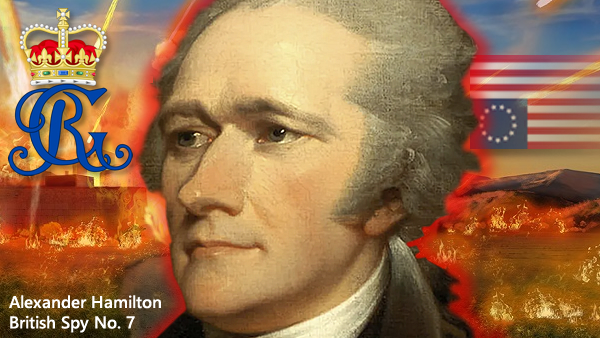 Alexander Hamilton was a British Babylonian-Radhanite merchant-banker demon Spy No. 7
https://www.prosoundweb.com/the-great-pyramid-early-reflections-ancient-echoes/
Ancient Egyptian texts indicate that this F-sharp was the resonant harmonic center of planet Earth. F-sharp is (coincidentally?) the tuning reference for the sacred flutes of many Native American shamans.
Was-sceptre and tuning forks to cut through the hardest stones using the power of sound and vibrations.
An image of the statues of Isis and Anubis and a close-up of an object often described as a "tuning fork" with "waves" in between them, giving the appearance as if the artifacts were "vibrating. Ancient Egyptians knew about their acoustic power. They believed that these sounds could generate vibrations with healing abilities. Using a method called "toning"
https://ia601900.us.archive.org/16/items/albert-pike-letter-to-mazzini/Albert%20Pike%20Letter%20to%20Mazzini.pdf
https://aim4truth.org/2022/11/22/the-babylonian-cartel-exposed/
https://aim4truth.org/2022/10/07/worldwide-banking-usury-the-worship-of-mammon-is-the-base-sin-that-humanity-can-overcome-by-the-year-of-jubilee/
https://beforeitsnews.com/eu/2022/11/how-the-khazarian-controlled-city-of-london-was-set-up-to-rule-the-world-2698992.html
https://aim4truth.org/2022/10/07/worldwide-banking-usury-the-worship-of-mammon-is-the-base-sin-that-humanity-can-overcome-by-the-year-of-jubilee/
The name of the first is Pison: that is it which compasseth the whole land of Havilah, where there is gold Gen 2:11
And unto man he said, Behold, the fear of the Lord, that is wisdom; and to depart from evil is understanding. Job 28:28
The Chaldean, Sabean, Eliphaz from Teman, in Edom
https://phoenicia.org/zimbabwe.html Ophir and Havilah are associated with the Garden of Eden and Gold; all of Earth was a Garden. Wisdom is valued above Gold, Ophir, Onyx; Job 28. Acquisition of global "Mammon" is the function of the WEF (World Economic Forum); Cainites, Canaanites (Phoenicians), Ishmaeites (Shia), Edomites, (Amalekites), Sepharvites/Sepharvaim, Himyarites, Nabatean Arabs, Hasmoneans and Sadducees.
Ophir is worldwide; India, Yemen, Africa (Rhodesia/Zimbabwe), Sri Lanka, Malaysia (Kingdom of Sabah and Sulu), Philippines, Australia, Peru, even California. Marcos Gold in the Philippines, Nazi Golden Eagle Trust, Mormon Church Polynesian Cultural Center Gold may ring a Baal. Ft Knox and NY World Trade Center Gold; Looted. America is the Phoenix of the New Age; this article will try to illustrate the 6000 yr old plan.
H6376 Pison: Increase (Of Gold, not Wisdom ie Fear of the Lord); Dispersive; Changing, extension of the mouth (Lie) G2447 Ios Poison (Crowned White Horse conquers with a Bow=Poison; Strongs H5115 Toxon)
H2341 Havilah: Circular; Hava=Eve "Living/Breathing"; son of Cush (Ethiopia), grandson of Ham; Son of Joktan; district of Ishmael; region of gold; "And Saul smote the Amalekites from Havilah until thou comest to Shur, that is over against Egypt. And he took Agag the king of the Amalekites alive, and utterly destroyed all the people with the edge of the sword. But Saul and the people spared Agag, and the best of the sheep, and of the oxen, and of the fatlings, and the lambs, and all that was good, and would not utterly destroy them: but every thing that was vile and refuse, that they destroyed utterly…It repenteth me that I have set up Saul to be king: for he is turned back from following me, and hath not performed my commandments." 1 Sam 15:7-11 This is why we are still battling Amalekites.
H211 Ophir: Reduce to ashes (Phoenix reborn from ashes); fine gold
Arabia and Vicinity 565 AD

 9 Branches surrounding Shamash; Shamash, (Akkadian), Sumerian Utu, in Mesopotamian religion, the god of the sun, who, with the moon god, Sin (Sumerian: Nanna), and Ishtar (Sumerian: Inanna, Easter); Naamah, Noah's wife, mother of the Canaan, Cursed from this union; the goddess of Venus, was part of an astral triad of divinities. Shamash, was the son of Sin.
Japan "Land of the Rising Sun" is the eastern end of the Ancient Silk Road which runs to the Korean DMZ, Beijing, Kazakhstan, Karakoram, Islamabad, across Afghanistan, Iran, Iraq, Jordan to Armageddon
Yemen: One etymology derives Yemen from ymnt, meaning "South", and significantly plays on the notion of the land to the right. Other sources claim that Yemen is related to yamn or yumn, meaning "felicity" or "blessed" was one of the first nations to be converted by Muhammad's followers in the seventh century C.E., and it has been a Muslim country ever since.
1500 years ago, Yemen, the Crucible of al-Qaida, was Once a Powerful Arabian Kingdom Run by Jews. Their kingdom, called Himyar, lasted for 150 years; The Kingdom of Saba (or Sheba) 10th century BC to the 7th century AD. The Kingdom of Saba (or Sheba) 10th century BC to the 7th century AD. The Nabataean Kingdom 600 BC to 195 AD. The Kingdom of  Palmyra aka Amurru, the source name of America.
Knowledge or Earth's Ocean Currents provided the means of travel for the Phoenicians, Minoan and Ships of Tarshish to India, Asia, Africa, America. It also allowed them to destroy the Earth eg Deep Water Horizon and Fukushima https://theresnothingnew.com/articles/fukushima-and-deep-water-horizon-extinction-level-events/
Japan "Land of the Rising Sun" is the eastern end of the Ancient Silk Road which runs to the Korean DMZ, Beijing, Kazakhstan, Karakoram, Islamabad, across Afghanistan, Iran, Iraq, Jordan to Armageddon. The Babylonian (Radhanite) fake-Jewish banks controlled the Chinese Silk Road trade and were only disturbed by the rise of the Seljuk Turks. With that event ca. 1000, they rebranded themselves as Ashkenazi, constructed a new trading language, Yiddish
Saba means "Morning/Dawn" Lucifer is the "Son of the Dawn"; worship of the Rising Sun caused the Glory of the LORD to depart Solomon's Temple; the Queen of Sheba offered 666 Talents of Gold to Solomon from Aksum (Ethiopia); Jesus turned the tables on the Money Changers who turned the 2nd Temple into a "Den of Thieves" Who and where are they?
"Who controls the food supply controls the people; who controls the energy can control whole continents; who controls money can control the world." Henry Kissinger, 33 deg Luciferian Freemason, Jesuit, Crypto Jew, Vietnam War architect, Klaus Schwab mentor. Jesus is Shiloh (Gen 49:10) "Owner/Master of the House"; These are the people who now control the Wealth "Mammon" of Earth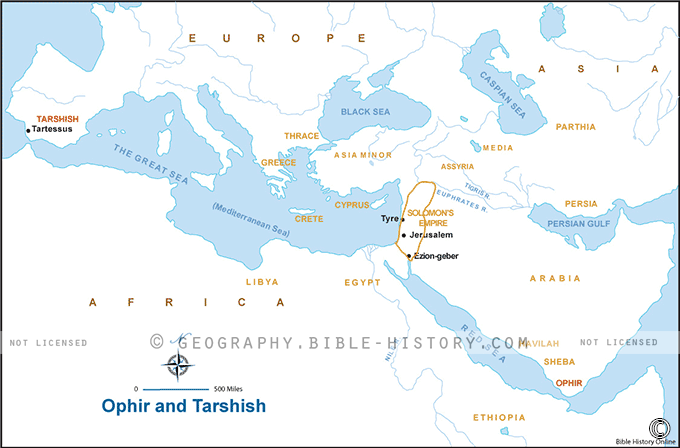 4 Tectonic Plates converge at Japan "Land of the Rising Sun"; Japan's Flag is identical with the COVAX Logo. Fukushima was hit with a 9.0 Earthquake and Tsunami on 3/11/11, 9 years before Coronavirus was "Classified" a Pandemic on Purim 3/11/20. Rockefeller Foundation financed Nuclear Reactor at Fukushima and Coronavirus Vaccines. "Earthquakes in diverse places" Mat 24:7; Mk 13:8; Lk 21:11 will occur when Plutonium Fission begins underground; Pluto is "god of the underworld".
Unit 731: Japan PM Shinzo Abe giving the Thumbs Up (Approval) sign; out his 22 yr right hand man Yoshihide Suga to be the new PM, both fans of Unit 731. There are no known survivors of Unit 731 called the "Epidemic Prevention and Water Purification Dept of the Kwantung Army" now replaced by The WHO and CDC. Unit 731 was given legal immunity just like Pharmaceutical Corp for Vaccines; human experimentation just like NAIAD Human experimentation head Christine Grady aka Mrs Fauci. Live vivisection without anesthesia, disease infection, amputation, organ removal, bubonic plague bombs, dysentery, cholera; experiments with grenade, bayonet, sword, knife wounds, flame throwers, food/water deprivation, heat/cold, hyperbaric, burial alive, saltwater injections, X-Rays and centrifuge experiments
    Ophir is associated with Wealth; Sepharvites/Sepharvaim, and Himyarites "Crypto Jews"; Nabateans likely Hasmoneans and Sadducees, but where is Ophir? India, Yemen, Africa (Rhodesia/Zimbabwe), Sri Lanka, Malaysia "Kingdom of Sabah and Sulu", Philippines, Peru even California are all options. Marcos Gold in the Philippines, Nazi Golden Eagle Trust, Mormon Church Polynesian Cultural Center Gold may ring a Baal. Ft Knox and NY World Trade Center Gold? Looted; Why? America is the Phoenix of the New Age. Ophir is described as a land of Gold (Rothschild ie Edomite "Gold Kings"), Sandalwood (world's most expensive wood used in Perfume, Incense Ref Eze 8; religious ritual), Pearls (eg Greta "Pearl" the Tranny face of Climate Change; the Holy Ghost "Pearl of Great Price" is JESUS) , Apes (eg Darwin's Evolution; Marco Polo notice Asians keeping Monkeys as Servants; the new Faux Crisis MonkeyPox), Peacocks (Melek-Taus is the Persian Peacock King=Lucifer)
     Abraham left Ur of the Chaldees for Harran the Sabean "City of the Moon" the Moon God "Sin" later became a daughter of Allah "The God". The Queen of Sheba was Sabean; 1 Ki 10:14 666 Talents of Gold were brought in one year to the Phoenician handled King Solomon. The Seal of Solomon is the Six Pointed Star, a Chaldean-Phoenician-Canaanite Star and likely Mark of the Beast https://theresnothingnew.com/articles/mark-of-the-beast/
Kamala "Lotus" Kama "Sickle/Scythe" Kamal "Perfection" mother's maiden name Gopalan "Priest" Fauci "Sickle" mothers maiden name Abys "Hell" Devi "Hindu goddess of sexual pleasure/ecstasy" Kamala Harris is a Boule (Noble/Brahmin) Caste Initiate; members are Archons "Demons"; Boule means "Council of Chiefs" (Bow=Edomite National god Qos), Camel Jockeys (Eye of the Needle separates man from his wealth) and Sea Merchants (Phoenicians) who used Monsoon Atmospheric winds and  to travel to Ophir.
Kamala Harris is a Boule Society Initiate; the ULTIMATE GAME is Capturing Human Souls. Harris is a Boule Sorority Alpha Kappa Alpha pledged to the goddess Qetesh aka Canaanite Asherah
The Boule Society are Priests of Qadesh "to consecrate, sanctify, prepare, dedicate, be hallowed, be holy, be sanctified, be separate"; Transvestite=Qadesh
The Cainite Phoenix symbol becomes the symbol and name of Phoenicia and the Arabian Phoenix Bird. Donald Trump danced the Arab Sword Dance "Ardah" and held an illuminated globe between the Egyptian and Arabian dictators playing the role of the Phoenix for a reason.

        Himyarites of Yemen and Southern Arabia descend from Joktan (Qahtan; Joktan's brother Peleg is the source of Archipelago "Land surrounded by Water"; Joktan's aim is to put the nations God separated with the Flood back together via the United Nations) and Jokshan, through Abraham and Keturah; they worship their primal god of artificial irrigation Almaqah symbolized by a Bull's Head (eg Wall St Bull) or Vines (eg Bacchus/Dionysus) Almaqah is seen in the city al Makkah in Islamabad. Notice all the means of artificial irrigation eg Hoover Dam, Turkey has 635 Mega Dams, several control the Euphrates River (Rev 16:12), China (Sina=Sin) 3 Gorges Dam for example. Himyarites were attacked and dispersed by the destruction of the Ma'rib Dam leading to a massive exodus ca 600ad at which point they become false converts to Judaism, residing in Khazaria (Ukraine/Russia/Poland etc), Iraq and Crimea, and false converts to Islam forming the Ismaili Shia religion.
Researchers in Alexander the Great's day claimed Himyarites are Tibetans; Mt Everest being the place where Noah's ark settled is called Chu
Palestine, Israel and Jordan are controlled by 33 deg Freemasons as is Iran. The Temple Mount, King David's Tomb and Last Supper Room are controlled by the Vatican in an agreement made with Shimon Perez (Simon Perski; Perski is Belarus ie Khazar); the Vatican (Divine Serpent) is not only built as a Viper (Jesus referred to the Pharisees, today's Rabbis as a "Generation of Serpents and Vipers"); is controlled by Jesuits whose HQ is the St John Lateran Archbasilica, considered the Mother of all churches/religions worldwide; Lateran means Hidden Frogs, the unclean spirits of the Dragon, Antichrist and False Prophet (Rev 12:9; 16:13); St John is Oannes, the Chaldean Beast Rising from the Sea.
The Jordanian Waqf ultimately handles the Temple Mount which is in bondage to Agar (Gal 4) Hagarenes or Shia Twelvers are Himyarites/Sabeans)
Jordan is Idumea, the land of Moab, Ammon and Edom, the 3 nations that escape the hand of Antichrist (Dan 11:41) during the final 3 1/2 years of great tribulation. Himyarites moved into the land promised to Abraham taking both sides of the Dialectic (Palestine-Israel) adhering to Shariah Law and Noahide Law, both requiring Blasphemy of the Holy Ghost, which is the only Unforgivable Sin.
Biden is Jesuit and a Rockefeller sock puppet handled by Jill Jacobi a Black Nobility descendant of Sicily; I'd guess she is much like the Jacobites of Scotland and Jacobins during the French Revolution; notice she not Joe is the one at the Wailing Wall in Jerusalem. Kamala Harris, Kamal Aroush is Phoenician born; the Synagogue of Libertines who stoned Stephen is also seen in the  Pharmaceutical CEOS Bourla (Sephardic Burla), Leif Johanssen (John/Oannes), Stephanie (Stephen=Crown/Martyr) Bancel.
The WEF (Black Horse Rev 6:6) controls the world's Billionaires, Corporations and Governments, founded by Schwab a Suebian (Giant Idol of Harpocrates the god of secrets) installed Oct 2021 wearing a Suebian War Knot in Jersey City faces Wall St) aka Briton, advised by Yuval Noah Harari, a Himyarite,(Gold miners of Ophir=India) both branches of Sepharvites (Gen 9:29-30; 2 Ki 17:30); false converts "Crypto"; Suebis to Orthodox (Chaldean, Russian, Greek, Ethiopian, Egyptian-Coptic); Himyarites converted to Judaism to become the Sadducees-Pharisees who crucified Jesus, praise "Lord of Heaven and Earth" as the "God of Israel" and "Lord of the Jews" with "Shalom" (Canaanite god of Jerusalem and title of Lucifer) and "Amen" (Egyptian god Amen/Amun means "Hidden"); used with Amen-Ra; the Hidden Sun being the Black Sun.
Schwab's Spiritual adviser Sadhguru, a Himyarite from Ophir (India)? told the WEF "Earth is dying, the soil can no longer grow food…we need to reduce population" (lowering CO2 is a sure way of creating a Desert)
Schwab dresses as Darth Vader for a reason; Top Gun Maverick debuts as WEF (Black Horse) 2022 ends and the G-7 (77=Dan 7:7 4th Industrial Revolution; 4th Beast of Iron; 4th Horseman "Death") begins. Maverick's mission to fly in a canyon and drop ordinance in a reactor vent came straight from the original Star Wars mission to destroy the Death Star. Luke Skywalker, son of Darth Vader, born in Libya (Synagogue of the Libertines who killed Stephen the 1st "Martyr" also means "Crown" as in Coronavirus)
Nubian/Cushite/Kennite Obama and his partner Michael from Ethiopia (Cousin Funye Capers an Ethiopian Orthodox Rabbi in Chicago) may also Himyarite; Pharaoh Taharka the last Pharaoh of Egypt was protected by Nubian Archers. Nubia "Ta-Seti" is "Land of the Bow"; the Edomite national god Qos=Bow=Poison, became the Nubian-Nabattean-Hasmonean-Himyarite "Lord of Heaven and Earth". I
Obama-Biden part 2 we have a Phoenician-Himyarite cross-dresser of the Libyan Senussi Army as VP Kamala Harris aka Kamal Aroush playing the role of the Whore of Babylon
Maverick is menaced by Iranian anti-aircraft fire just as Luke Skywalker in the 1st Star Wars; in the prequel as a young pod racer Nubian Archers filled the same role.
We see the same story in Chronus (Saturn/Black Star/Death Star aka Rising Sun) eating his own children to prevent dethronement.
Himyarites